Given that not many people intend to or will ever get to the North Pole, this race report may interest more than just runners.
A year after completing the Seven Continents goal in Antarctica and Chile, I still retained vivid memories of the soothing silence on the southernmost continent, and of the calming quality in the vast whiteness that was Union Glacier. I had no doubt that were I alone in this world (not that I would wish that upon myself), I would have jumped at the opportunity to live in Antarctica for an extended period, perhaps for 6-12 months, not to do anything in particular, perhaps just to stand in awe, maybe write, play music or wander around aimlessly taking photos.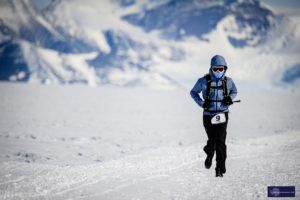 Competing in the Antarctic Ice Marathon 2016.
With that frame of mind, signing up for the North Pole with Richard Donovan's crew did not take a huge stretch of imagination. Whilst I had turned up in Antarctica underdone physically, at the North Pole, I decided to be better prepared.
There was still no training window for me during the working days, so I had no option but to stick to the weekend running routine. The difference this time was to switch the majority of races from full and half road marathons to mostly hilly trail marathons and ultras in more testing conditions.
My North Pole training started with the Big Red Run in the Simpson Desert, a 5-day 250km race (plus a final 8km sprint to the pub) over stunning desert landscape close to Birdsville. I had wanted to spend some good time crossing the Outback, after reading "Tracks" by Robyn Davidson. Little did I know that the Big Red Run would turn out to be much more than a week of running in the heat on unfamiliar terrain. It would provide me with an endless source of inspiration and an amazing running family which would later be integrated into my daily life, and various artistic and athletic pursuits.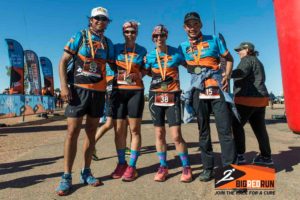 Finish line celebration with fellow Big Red Runners 2017.
After leaving Birdsville, during the nine months leading up to the North Pole, I competed in nearly 20 races, mostly on trail, about a third of them ultras. The Big Red Run had awakened my passion for those long slow runs in the wilderness. Road marathons were starting to feel hard on the knees and less attractive overall, with trail ultras' appeal growing.
I went into the North Pole event fighting fit, not as fit as someone off the tail end of a proper marathon training programme, but as fit as a once-a-week runner could be. But work matters had thrown a good spanner in the works. By the morning I was leaving Oslo for Longyearbyen, the last on-the-grid town before being cargoed to Ice Camp Barneo, I had found myself jetlagged 8 hours away from my home time zone, averaging a little more than 2 hours of sleep per night, all at strange times, having spent about 3 full days on various flights and airports out of a total of 5 days of work and transit.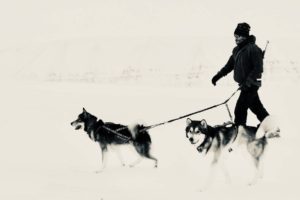 A common sight in Longyearbyen 2018.
I felt healthy generally, but exhausted. In any other years, I would have left the North Pole Marathon to chance. But this year, I wanted to do whatever I could within my control to do my best at this race. I decided to not let the body take its time to overcome the tiredness and adapt to new conditions. I would do the opposite by shocking the body into another gear. I took an ice bath everyday then alternated the ice baths with Bikram asanas. The body responded quickly. Having a final stretchout in Longyearbyen, taking a clip for my Hoffer friends, I could feel strength return to my legs and torso.
The Antonov transported us safely down the ice runway at Camp Barneo. Barely two hours later, at about 10:30pm local time, we were off running. The ice crunched loudly beneath our feet, at times sounding like chalk screeching on a board. To minimise frost bite exposure, runners would stay close to camp by running 10 loops around it. There was little firm footing for nearly 3kms in each loop. Each step was different, as most runners tried to feel the ground and how much the shoes would sink into the ice. The faster ones somehow found a way to zoom over this ground, similar to how elite runners could zoom down those technically steep hills. The remaining section of each loop was along the edge of the runway. The ice there was compact, providing a runnable surface. After one lap, the strategy was clear. Manage the cold exposure. Don't overheat. Don't fight the soft ground. Save energy to run the runnable section.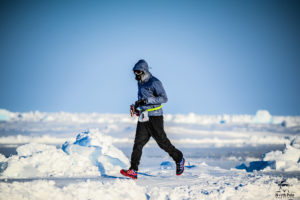 Running the first half of the North Pole Marathon 2018.
At midway, I stopped by the tent for the third time, this time longer than the previous stops to take in more food and change the inner and middle clothing layers. The longer stop caused the ice in my shoes and socks to melt. They became too wet and cold to wear. I tried to dry them in vain. The sensible option then was to change into snow boots and carry on. I wasted valuable time during this stop, probably due to lack of experience in this sort of condition.
Going out for the back half in heavy snow boots, after a long rest in the warm tent, was mentally challenging. Running was awkward and energy draining. I could not feel my fingers and toes again for another hour. By this time, I had made a mental connection between the level of coldness I could feel with the possibility of frost bite. So I was confident enough to run on. During the back half, I stopped by the tent only once more to refuel. Despite running that half in snow boots, I suspected that I actually ran negative splits, thanks to an hour or so saved through continuously moving. My Garmin had died much earlier in the race, so there was no way to tell what pace I was running at or how much time had lapsed.
In Antarctica, my moving time was around 5.5 hours. Here I finished the race in just over 8, with about 7 hours of moving time. Factoring into account the considerable difference in ground and weather conditions, I was happy with the result. I had come here with the aim to finish the race, and to test my reserves for other endurance events in the future. I felt strong on the line, and got what I needed: a good measure of where my mind-body was at.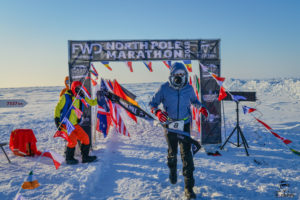 At the finish line of the North Pole Marathon 2018.
Whilst we were running, the ice floe started to crack. The cracks became wider after the race, to a point where it was unsafe for planes to land or take off. We were facing at least one day of delay, even up to 5 days, as the astute Russians went about three different strategies to fix the runway and find alternatives.
Time flew quickly in the communal tent, as groups of runners got to know more about one another, over tea, coffee, beer or Smirnoff – all provided through stoic Russian hospitality with all sorts of different currencies calculated at wildly fluctuating exchange rates. I wished I had packed some VN Dongs. Those inflated 500-thousand-dong notes would have impressed.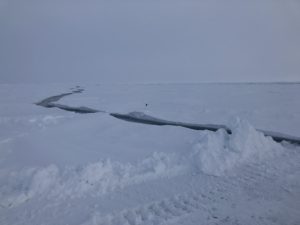 A crack on the ice floe near Camp Barneo.
Helicopters took us to the geographic North Pole, where we spent an hour or so appreciating how cold it was at this end of the earth, taking photos and doing other touristy things. I did not forget to check out Santa and Rudolph. They no longer lived there. The rumour was that they had moved further south to avoid being disturbed by marathon runners.
Boarding the Antonov once more and saying goodbye to Camp Barneo and the North Pole, in about three hours, I got to admire the sweet sunrise over Longyearbyen again. Runners went about their own businesses. Contact details and goodbyes exchanged, newly made friends went separate ways, hurrying back to their families and workplaces.
I returned to Oslo. There had been an earlier plan to drop by Haifa, Israel, for a business visit on the way home through the Middle East, but with the Syrian situation, it was best to avoid the region for now. In a way, I felt quite thankful that I could now go straight home to my family.
On reflection, the best thing about this adventure was the opportunity to reconnect with old friends (fellow Antarctic runners) and to get to know new ones. Each runner came with their own stories, some shared, most untold. Some runners were celebrity-like figures, most quietly savouring the moment. I felt tiny amongst these runners – a happy tiny runner at peace with himself. To see Richard, Mark, Dave, Francisco work amongst the crew again was also inspiring and left many joyful memories.
Video courtesy of Francisco Mattos of Shutterbird Production.
The North Pole Marathon truly lived up to its claim as the "World's Coolest Marathon". If Antarctica, to me, was a precocious filly, then the North Pole was a colt, full of testerone, grunt and raw abilities. The experience was out of this world; and now that I had run the race, I could relate to what Richard Donovan had said earlier: "The North Pole Marathon is a life changing experience. There's your life before the race, and there's your life after the race."
? Mark Conlon, Global Running Adventures, North Pole Marathon, 2018.