Given that it's Fake News Day, I'll be liberal and bend the facts on one detail in this report. It's up to you to figure out where the creative bending is. There must be a hundred Oxfam reports out there by now. But I assure you my report is different. It probably will not inspire you one bit, but be careful – it might persuade you to do Oxfam next year.
You know me. I always start with the most important item.
1. THE FOOD & DRINKS
I completely underestimated the amount of food that would be available at the checkpoints. Even without a support crew, I ended up inhaling two burgers and one pie, but could have easily consumed more had I not planned to eat as little as possible during this event (as part of longer term training). Next time if I do Oxfam again, I will not bring any food whatsoever. Not even gels and bars. Perhaps a picnic blanket, a bottle of Level18 chilli sauce and an ice bucket would be more fitting.
2. THE MUSIC
An Oxfam event would never be complete without a few teams blasting music deep into the night. Some music will lift you and carry you over the next dozen kays. Some music will make you want to run away from it as fast as possible. Either way, it is all good as you will get to the checkpoint earlier. My favourite piece of the night was "Another One Bites The Dust". I was hoping for "I'm In Love With My Car" to feature next, but it was not to be. At the following checkpoint, I heard Angelo talking to Taylor about the temptation of hopping into a cab – which of course never happened! Totally! Spooky, huh?!
3. THE WEATHER
Yep, you might have heard it from all reports. The weather was great. Dodging falling branches was great fun, and gave the slacking legs something to do. The only challenge was to keep warm at checkpoints. It felt as cold as at the North Pole – which totally did not make any sense. So I just put it down to me being mentally soft. You're a Hoffer, man. Act like one!
4. THE TEAM
We had a cracking team this year. Martin, hailing from a wee 3 hours away from Dubbo (which is another few wee hours from Sydney, which is not that far from Melbourne), where it is apparently as flat as a pancake, looked at hills as if a zillion Tour d'Eiffels had suddenly popped up in the Dandenong. So of course he just lapped up all the hills, one after another, like a yummy breakfast. Angelo, a tremendously gifted 800m sprinter, had decided that if he could sprint 125 times, then that would be Oxfam. Great plan! Jeanette, our brave last minute recruit, had looked at the 13km between CP0 and CP1 and thought it was way too short. So she decided to wing the whole 100km with the only form of training being running around a café all day. Amazingly, all of these ambitious plans worked out so well, with everyone smiling broadly throughout the event. There were a few blisters here and there, but apparently they did not affect anyone's mood. We preserved the PG rating of this community event, as no swearing was heard amongst our team members, even once, throughout the 25 odd hours!
We finished as a team of 4, having left nobody behind. At the finish, we all wished the Oxfam distance would be more like 200 klicks. What a team!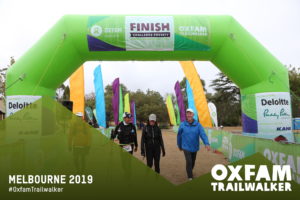 Considering the odds, I might as well enter Barkley next year. Well done, Team Big Red!