I have a lot to thank the Big Red Run for. Apart from the wonderful experience in itself and so many good friendships that were formed during and after the event, it re-ignited my love for running and helped me see running in a different light. It is such a pity that this great Aussie event is no longer available for future ultra runners.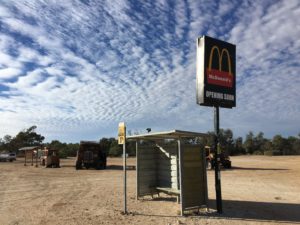 After I completed my 7 Marathons on 7 Continents in 7 Months (#777) quest in 2016 (which, for a full-time salary jack and family man, was more of a logistical challenge than an endurance one ), I fell into a hole – in running terms. Albeit a shallow one, it was enough to get me thinking. Over the ensuing 6 months, I ran only 2 half marathons, a far cry from the once-a-week/once-a-fortnight routine I had been persisting with since starting the running journey back in 2014. It was during this time that I realised that my persistence of running was not driven by the medals and the satisfaction that came with having accomplished something hard. Deep down I have always been a bit of a rebel, so with minimal checks and balances in place, I have always been willing to look for something way out of my comfort zone to try. I ran into Fred Rohé's The Zen of Running, and loved his poetic and minimalist representation of this intriguing sport. I thought the essence of this thin book was closer to what was in my heart. Then I read Tracks, Robyn Davidson's account of her journey across the Simpson Desert accompanied by camels and her dog, from Alice Springs (Northern Territory) to Broome (Western Australia). Now if you know Australia at all, you would also know that this part of Australia is incredibly beautiful but tough to navigate for months on end with minimal support. Then I watched Forrest Gump for the 101st time. At the part when he suddenly decided to stop running, I got the hint that this running caper was not going to stop for me. I was not on Monument Valley's route 163! I was not ready to stop yet. Forrest had inspired me into running, by the way. I might tell that story another day. My friend Julie got me a Gump tee from her Grand2Grand quest in the US last year, and I have been sneaking looks at that tee only a few dozen times since Alps2Ocean earlier this month. Thank you Julz!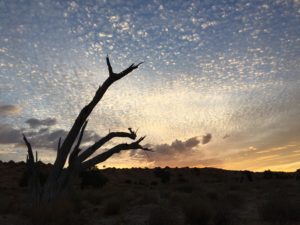 I contemplated the idea of walking the Simpson for a few weeks, not for a cause or for any particular reason. I just thought that there was a good correlation between the inspiration I found in Gump and Tracks and Rohé to that particular activity. Plus I had never been to a desert, so curiosity certainly was a minor factor. Being inexperienced with the desert, with ultra running (the Big Red would be my first ultra), and with the logistics of it all, I looked for a guide to help me on my first attempt. There were a couple of guides offering their services online, but I did not fancy the sound of what they offered. Then I stumbled upon the Big Red Run page, and told someone at work about my intent. He asked me a non-question, tongue in cheek: "So Everest would be next for you mate?" I laughed it off, allowing myself to drift into the unexpected. And the rest was history. For such a good thing, why these Big Red Run organisers do not advertise their event more widely, I have never figured it out. I have been wearing the Big Red top a lot in my runs all over Australia and overseas, and I have never been more popular amongst curious eyes.
So since 2017, the Big Red has triggered a stream of inspiration for me to try out the North Pole, the 100k, the miler, the 24 hours, the multi-day 200 miler, and – over the weekend – the 48 hours. After this second time doing track racing, I still have not figured out how one could enjoy this particular racing format. Yet it is most likely that I will do it again. Why? Not sure. And I am no longer interested in finding out. It just feels right to do these races.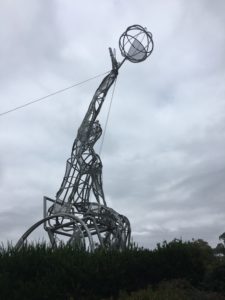 As you can pick up from the hint, I found track racing hard. Really hard. The surface looks deceptively soft, but it is rock hard compared to trail, especially at night when it cools down. The exposed track allows the wind to move freely, which becomes a health management issue when you try to move without any or much sleep through the night. The track absorbs the heat from the sun, so even at moderate temperatures, the bounced heat makes it burn more intensely than usual. 10kms, or even 50kms, on trail can pass just like that when you are on a roll. But 10kms on a 400m track is 25 laps. And 125 laps of sticking to your lane, constantly passing other runners, constantly letting others pass you, require a lot of patience. And after 50kms, when you realise that you are potentially only at one sixth to one fourth of the way, that could be a real kicker in the face. Combinations of those factors would play out on the track, with the runner moving mostly in silence, stopping at times for a drink or a bite, cheering others up, whilst attempting to lift himself up in doing so, his smiles hiding all the pain away.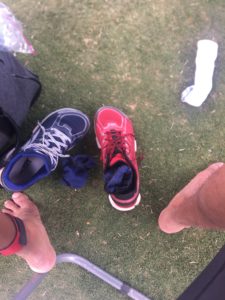 I had come into this race with two goals. The primary goal was to keep moving for 200kms in one hit, with as little sleep as possible. The secondary goal was to pace at roughly 7kms an hour for as long as I could. You probably can guess that I was training for a Big Dog's Backyard Ultra type of race. I hit a big wall after 100 miles. It was no coincidence that it was also the longest distance I had completed in one hit prior to this race. Being more experienced with running, I knew it was simply a mental test. The body had much more to give! Then Andy's message reached me. It packed this energy that lifted me flying for a few hours. It was a joy to run freely and effortlessly. After every stop, it was always painful to get going again. I kept reminding myself that the pain would be temporary. I respected the pain and listened to it for signals, but there was no way I would be overwhelmed by it. It was the best few hours of running in my life – fast (by my standard), effortless, with pain lurking behind but not troubling enough to slow me down, and getting closer to my distance target after every lap. At 204kms during the wee hours, I decided that it was time to stop, take a much deserved shower and enjoy a cup of coffee with my good Kilimanjaro friends whom I had missed catching up for a long time. We had a good chat about life and family and kids and Mongolia. I enjoyed their warm company and various creative projects. Then I returned to the track to welcome other 48-hour runners' finish and to attend an emotional closing ceremony. A short flight home later, I reunited with my family. Unlike Alps2Ocean two weeks earlier, it seemed like I had never left home.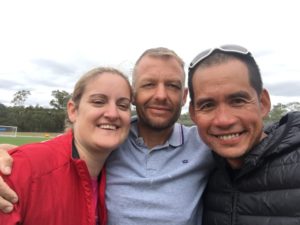 I felt good about the ability to run well after being on my feet constantly for 100 miles. I will be building on this effort in my attempt to complete Tahoe 200 later this year. Spending a long time doing laps on a short track gave me a lot of time to observe other runners. They came in all shapes and outfits. They ran with different gaits, some smooth, some slightly awkward. But boy, oh boy, weren't they amazing! They just pushed and pushed and pushed, most with a smile. The organisers and supporters never showed their fatigue through exertion and lack of sleep. I had turned up to the race casually, like I always do. It was not long before other runners, supporters and their families took me in as their own, offering all kinds of support. Words cannot describe my gratitude. If you are a runner doing these types of races, you would understand. I felt great for having shared this race with them all.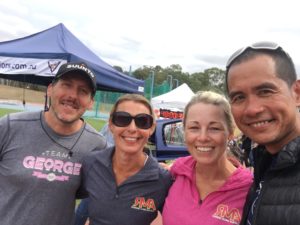 So how did it feel like having completed a 48-hour race? Strangely these lyrics from Don Williams came to mind:
Cause I'm just a country boy
Money have I none
But I've got silver in the stars
And gold in the morning sun
Gold in the morning sun
Completely unrelated you'd think. But then if I say that my love for this minimalist sport feels the same as my love for the cello and the guitar, then most would raise their eyebrows. It's horses for courses, and most of the time, I doubt that you can figure these paradoxes out without doing a bit of experimenting yourself.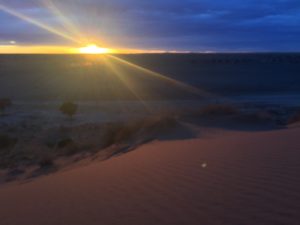 So yeah, I will be running more track races, and next time, shoot for a little bit longer, a little bit faster, and a little bit happier.
Coz, as Charlotte Eriksson put it so poetically:
I am not a finished poem,
and I am not the song you've turned me into.
Peace 🙏