Couple of things I learnt from running 62 laps (155km) around Princes Park over the weekend:
– You can run a decent time in a very restrictive outfit (George).
– You can promise your coach that you are out running only 20km today but still smash out 85km on a whim anyway (Julie).
– There are peeps who actually bother running 100km the day after a 12hr race (Karen).
– You can get half decent service station coffee at 3am in the morning delivered to you on course (George).
– When a noob ultra runner says she's going to stop at 50km, don't believe her as she's going to end up with 75km (Meg).
– Don't show other runners and supporters the home cooked food you brought for the race, especially the halloumi cheese (everyone, particularly Team George, Ben and Chloe).
– You get a bottle of wine for running a good race. And you still have to pay for the privilege 😂
– 20-somethings can sprint really fast when they're bored (Thomas).
– I have a stalker after A2O (Jacqui).
– There are peeps who walk Princes Park at all times of the night.
– Some teenagers never sleep. They were everywhere around the park, apparently debating politics and the upcoming federal election.
– Possums, large ones, liked my food, while George the "landlord" was busy sleeping 💤
– Runners are the best crowd. Seriously, repeat that. We don't even know what one another does, except that they rock up every week and smash out some serious kays with big silly grins on their face.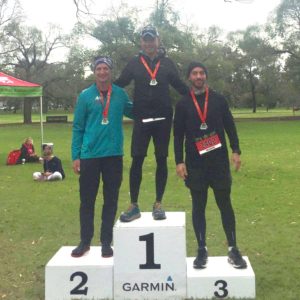 That's more than a couple!
Read about another perspective of this race on Facebook:

See a live video feed on Facebook: