A virtual race is not considered a real race, because the course and runners' efforts are not "audited", apart from what's on Strava or paper. Furthermore, many participants are not motivated to try their best. So it's not really a race between runners. It's more of a race against oneself. Just what I like.
After Quarantine Backyard, Tennessee 1,000km, and the ongoing CRAW 50,000km that was not going to end until next September, ironically for a noob runner, I was already a virtual racing veteran. Yet there was room for one more, the virtual Sydney to Melbourne 1,000km road race. Organised by MW Athletics, this one celebrated the legendary 80s foot race of the same name, historically won by legends such as Kouros and Young. The field attracted 400-odd runners, a few of them probably capable of finishing this race in 6-12 days if they really try. That's a big field for any ultra race, let alone a 1,000km one. The folks at MWA must be really good looking to have that much pull. I wonder how many would have signed up for a real S2M.
Entering this race, I defined what would constitute "winning" for me:
1. That I have maximised moving time every day without compromising the daily routine of family, work, play and rest.
2. That I have completed at least a marathon distance every day, barring serious injuries or urgent commitments.
3. That I have enjoyed every day of racing and finished each day in a positive mood for the next.
I was prioritising balance, productivity and enjoyment over efforts, but not at the risk of slacking off.
I promised myself that if these three criteria were ticked off on the finish line, then the race would have been a success to me.
I had this photo of Kouros' pinned on my phone. I will never forget an image of this man running for hundreds of miles in work pants and boots after a long day at work. He had inspired me to try longer distances. As a feature of the race, a virtual Kouros would pace the runner at the front of the pack. As it turned out, I had the pleasure of having Kouros pacing me for the last 5 days of the race. Now and then, I tried to start a conversation, but Kouros was a man of few words.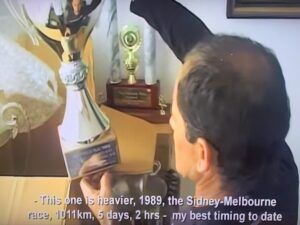 Over 4 playdays (weekend days) and 13 workdays, I covered a minimum of 43km a day without fail. Some of my longer days reached 80-100km. More than 90% of moving time was indoors, around the couch, up and down the hallway, around the piano, etc. None of it was on treadmills. I didn't have one. The rest was outdoors. The indoor 160km completed over 20 hours in August had provided me with the knowledge that if I needed to dig deep, my body would have the capacity and experience to do so.
Today, when I reached the virtual finish line at the MCG in Melbourne, all three success criteria were ticked off. I didn't feel as broken as in pre-race assumptions.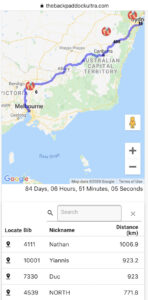 The body was showing some signs of wear and tear, but a few days of reduced running load should provide plenty of opportunities for recovery.
Best of all, these last 17 days have provided me with some of the most wonderful family time and work productivity possible under COVID-19 lockdown conditions. I must thank this race for that.
I've now fully adapted to reading, composing emails and conducting zoom meetings while moving. Initially I could only walk while doing these activities, as I discovered faster pace interfered with mental focus and required constant vision recalibration. But after a few days, I could start jogging at 6:30-7:00 pace while reading. The vision recalibration was still a niggling challenge. I started to rest the eyes more regularly, and it seemed to help. The arms and shoulders got sore for holding the phone up high, so that I could maintain a sound posture. It turned out to be a blessing in disguise, in the form of upper body training.
When I wanted to go beyond 50km on a workday, I would need to do some writing on the move too. I started experimenting with dictation software instead of writing on a laptop or on paper. The process was slow and not very enjoyable because it muddled lines of thought. However, barring the services of a typing secretary like the writers of old, that was the only way I could keep up the daily mileage. This writing method is still experimental and clunky. I need to tinker more with it over the rest of the CRAW race.
Of course, there were certain activities that I needed to stay still for, like coding and drawing. There was just no other way that I could see. The idea of walking on a treadmill at a standing desk doesn't appeal to me. I'd rather run around a couch. At least, I could enjoy getting dizzy!
Family time needed to be improvised too. I did more activities with the kids that required us to move around, rather than playing musical instruments, cards or board games.
The best running moments, however, were when work had been finished and the kids were either still sleeping or doing their own thing. I could afford some me time, running in silence, at times in meditation. Up and down, across and over. Feeling every muscle moving with motion, every breath in and out. Watching the thoughts and emotions rising and disappearing. And when the gaps between thoughts appeared and expanded, everything turned feather light, like a whiff of smoke. Like a mirage. Up and down, across and over.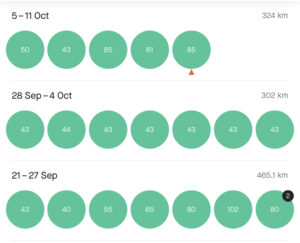 All in all, it has been an interesting experiment, more of a problem solving type, less of an athletic nature, considering my overall conservative pacing.
What I would like to experiment with next is running a real 1,000km trail race. But I need to find a 2-week holiday, with no work and no commitments. I also need to be able to travel beyond the 5km lockdown radius.
Official Finishers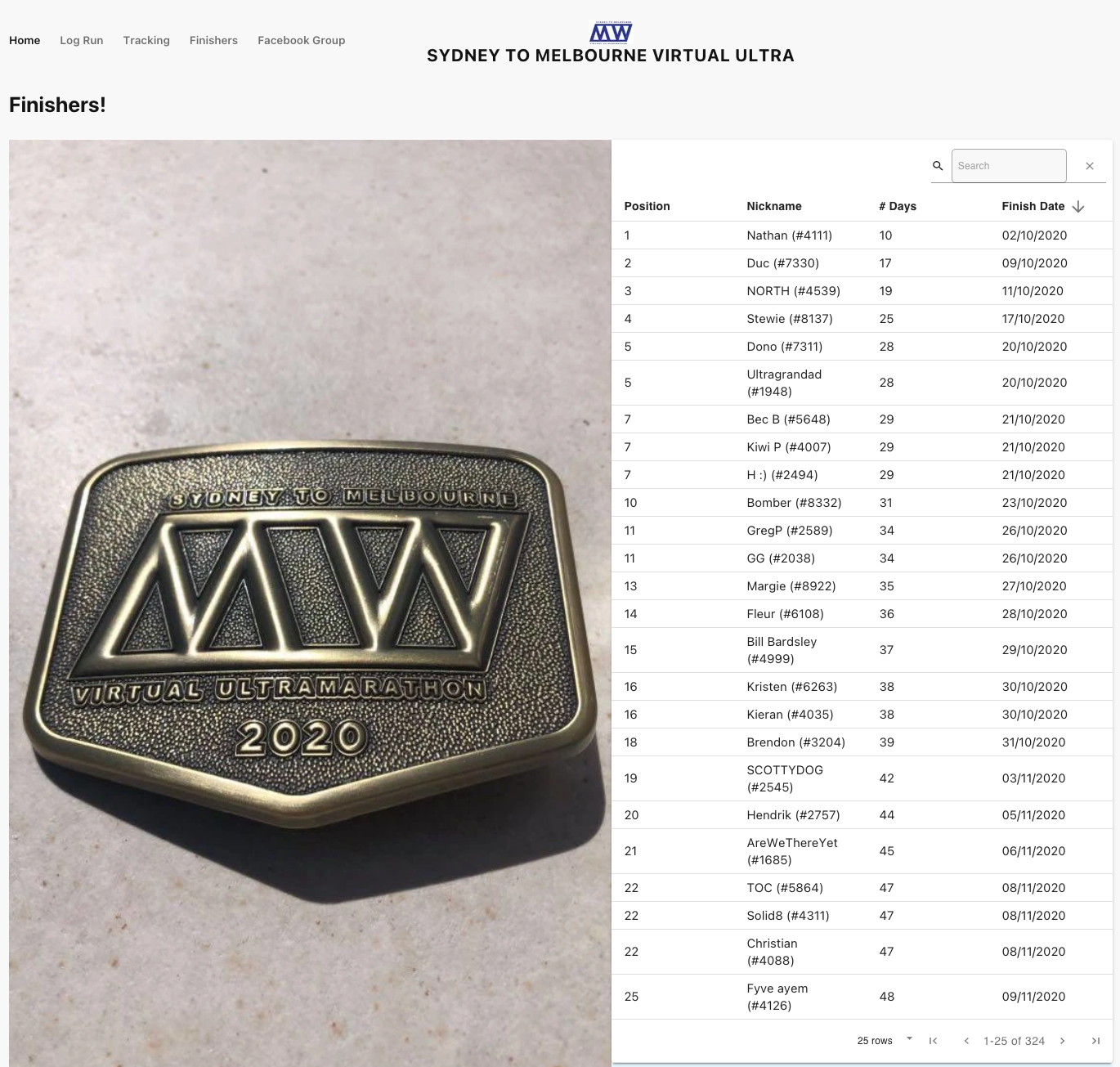 A record of all my runs in this event is on Strava.